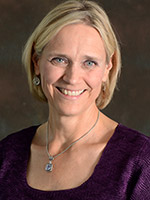 Mary Valentine Fleming M.D., F.A.A.P.
Dr. Fleming was born in Pittsburgh, PA then later moved to the Buffalo, NY area where she completed high school. She earned a BS in Zoology from the University of Kentucky in 1975 prior to attending medical school at the University of Louisville, graduating in 1979. She completed her 3 year pediatric residency at Kosair Children's Hospital in Louisville then entered private practice in 1982 in Jeffersonville with Dr. Lynn Gulley. Dr. Valentine Fleming has been board certified since 1984 and is a fellow of the American Academy of Pediatrics.
For many years she has been known as Dr. Valentine, but since her marriage in June of 2004 to Dr. Jim Fleming (retired), she decided to change her name. Dr. Fleming has three children, two step‐children and five grandchildren. She enjoys singing in her church choir and playing golf.